Big Brothers Big Sisters Launches Innovative High School Leadership Program
In the media:
Big Brothers Big Sisters of the Capital Region launches new program in Schenectady
BBBSCR launches new pilot mentoring program
Schenectady school district launches mentorship program with Big Brothers Big Sisters
When eight-year-old Little Brother Roland Price met his fifteen-year-old Big Brother Johnattan Sukhoo, he couldn't believe his luck. "My Big Brother is just like me! We're so similar!" he exclaimed.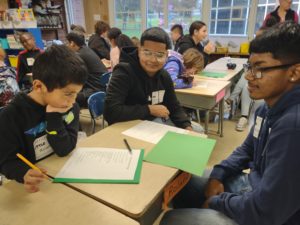 Roland, along with thirty-eight of his 3rd grade peers, is participating in a new pilot mentoring program launched this fall by BBBSCR in collaboration with the Schenectady City School District. This High School Leadership Program (HSLP), running through the 2023-24 academic year, puts the power of mentoring to work to support both high school and elementary school students in their educational journeys.
BBBSCR has a 60-year commitment to providing one-to-one Big Brother/Little Brother and Big Sister/Little Sister mentoring relationships for Capital Region youth. These mentoring relationships have proven to be invaluable in relieving the pressure faced by students and families during challenging times; these relationships are especially valuable today as local youth navigate the residual impacts of the Covid-19 pandemic. The High School Leadership Mentoring Program takes this longstanding commitment to the next level by pairing high school students as mentors for whole classrooms of their elementary school peers, in a weekly program facilitated by BBBSCR staff.
Key Program Details:
• High school students mentor elementary school students, pairing one classroom of high school students with one classroom of 3rd-grade students.
• The student cohorts meet as pairs, matched one-to-one based on their individual personalities, strengths, and goals.
• Weekly mentoring sessions take place throughout the school year, with matches meeting for approximately one hour during the school day.
• Mentoring sessions include shared lunches, participation in group curriculum, and individualized programming tailored to each third-grade student's needs.
• For each match created, two students benefit from mentorship: the elementary students are mentored by a high school student, while BBBSCR professional staff mentor the high school student.
• The High School Leadership Program is designed to empower high school students as young leaders, providing them with the tools to discover future career opportunities and become advocates for social change within their communities. By serving as role models to elementary school youth, high school students develop meaningful relationships while finding their own voices as community advocates and philanthropists.
This innovative program aligns with the Schenectady City School District's motto: "Everybody Counts. Everybody Learns." BBBSCR's commitment to creating and supporting one-to-one mentoring relationships that ignite the power and promise of youth resonates strongly with the district's mission to ensure all students achieve their full potential. BBBSCR professional staff will also be in regular contact with parents and guardians, providing wraparound support to each family to address their specific needs and challenges.
"The High School Leadership Program pilot represents a dynamic partnership between BBBSCR and the Schenectady City School District, aiming to empower students to succeed in school and beyond," said Lea Montalto-Rook, Chief Executive Officer for BBBSCR. "We believe this initiative will not only help students academically but also instill essential life skills, ultimately propelling them towards successful futures."
The pilot program has received enthusiastic support from school leadership at Jessie T. Zoller Elementary School and Yates Elementary School, as well as the leaders of the City As Our Campus Schenectady High School initiative. In its inaugural year, the program will involve one classroom of 3rd-grade students from each elementary school, paired with 43 City As Our Campus high school students.
"Thank you to Big Brothers Big Sisters of the Capital Region for offering this fantastic mentoring opportunity to our students," said Anibal Soler, Jr., Superintendent of Schools. "Mentorship is powerful. This opportunity empowers our high school role models to serve to support and develop our younger students. It's powerful on both ends. We are excited for this partnership and program."
BBBSCR is excited to embark on this transformative journey with the Schenectady City School District, confident that the High School Leadership Program will provide invaluable support to the students involved, helping them reach their full potential while also providing wraparound supports for their families.
Pictured Above: Little Brother Roland Price gets to know his fifteen-year-old Big Brother Johnattan Sukhoo, while another high school mentor looks on.