On a Night of Gold and Glam, The Big Fall Ball Finds Great Success
SCOTIA, NY – On October 14, 2021, Big Brothers Big Sisters of the Capital Region (BBBSCR) hosted their inaugural gala, The Big Fall Ball, to raise funds needed to sustain their mentoring efforts in 2021. The event, hosted at the picturesque River Stone Manor, brought together supporters from all over the Capital Region. Event attendees were treated to a fall themed sit-down dinner, spirits, courtesy of DeCrescente Distributing Company and Saratoga Eagle Sales and Services, Inc., and music from Brown Liquor Social Club.
New to the Capital Region, and a focal point of the evening, the 365 Big Board of Chance (a spin on the traditional silent auction) gave all in attendance the chance to win sought-after prizes. The tick of the prize wheel could be heard all night as many who played walked away with prizes such as tickets to Buffalo Bills, Green Bay Packers, New England Patriots, Boston Red Sox and New York Yankees games, a weekend get-away to Lake Placid, a flexsteel recliner, a Belgium bicycle, exquisite wines, a dinner for eight, prepared in-home, by a professional chef, and so much more.
But the highlight of the evening was a special speaking program that saw the announcement of the 2021 BBBSCR Match of the Year, the presentation of the first ever Igniting Potential Award, and pre-produced videos of BBBSCR Bigs and Littles that highlighted the important work being done at the organization. While all five match finalists were deserving, Big Brother Chuck and Little Brother Shazir were named the 2021 BBBSCR Match of the Year. They were not present at the gala, but guests were treated to a pre-recorded invterview of Chuck and Shazir where they were told that they had won. To watch this video CLICK HERE.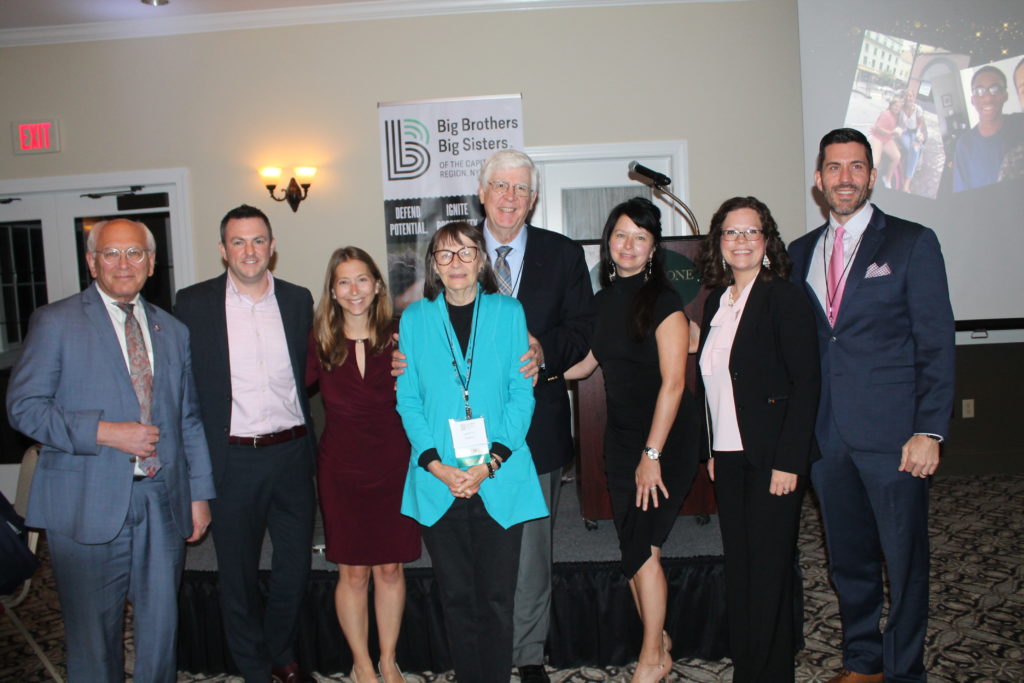 For their contributions to BBBSCR over the last 30 years, SEFCU was presented with the Igniting Potential Award. Present to accept the award were SEFCU's Community Impact Leader Kate Farrow & SEFCU's Community Engagement Leader, Mark Duffy. As a former Little himself, Mark shared a heartfelt thank you for all the work that Bigs do for at-risk youth in the region. Bernie and Lynnette Noonan were also recipients of the Igniting Potential Award. Bernie, who served on the BBBSCR Board of Directors for nearly 30 years, has made countless contributions to the organization not only financially but as a Big Brother himself, on two different occasions. "The lens through which I view the world changed the day I became a Big Brother. It changed my life!" shared Bernie. "I have seen my two 'Littles' make great progress in their lives. I have worked with scores of professional BBBS staff, other Board members, financial supporters and especially the Big volunteers who make a difference in thousands of children's lives. What a privilege it is to be 'joined at the hip' to Big Brothers Big Sisters and its mission," shared Bernie.
Also in attendance, of the nearly 120 guests, where Congressman Paul D. Tonko, BBBSCR Board President Noelle Podoba, BBBSCR CEO, Lea Montalto-Rook, and many other distinguished guests. As of 10/22, the organization has raised nearly $93,000 from the event; all for its continued mentoring efforts. Thank you to the corporate partners, foundation supporters, honorary committee members, staff, volunteers and all event attendees who made the evening a great success!