Agency Sponsored Enrichment Activities for Bigs/Littles and Waitlist Children
This summer, Assistant Program Manager Cierra Daubitz has kept our Bigs, Littles, and waitlist kids busy with a plethora of agency-sponsored enrichment activities through our Big Experience Program. While these monthly activities are inclusive of all of our BBBSCR youth, they were designed so that the children on our waitlist could engage in fun, educational activities with BBBSCR staff and adult volunteers while they wait to be matched to their Big.
On an annual basis, Big Brothers Big Sisters of the Capital Region works with the children in our programs to set individual goals and work towards BBBSCR priority outcome areas. We partner with parents/guardians, volunteers and others in the community to hold ourselves accountable for each child in our program achieving:
Higher aspirations, greater confidence and better relationships
Avoidance of risky behaviors
Educational Success
While every child's path to adulthood is different and difficult, the hundreds of children in our programs face adversity at a much higher rate than the general population. The Covid pandemic has been devastating to their mental health and has led to soaring rates of mental health challenges over the course of the past two years.
With our Big Experience Program, our aim is to offer agency-sponsored activities centered thematically around our priority outcome areas. Furthermore, in response to the pandemic, we recognize the impact of a mentor on the mental wellness of our Littles, and have developed enrichment programming this summer with a focus on mental health.
Many thanks to our community partners including SEFCU, a Division of Broadview, The Troy Savings Bank Charitable Foundation, the Christopher Dailey Foundation, the Hawley Foundation, the Charles R. Wood Foundation, the Frederick McDonald Trust, the Barry Allan Gold Foundation, and the Wright Family Foundation for their support of our Big Experience Program.

May 7th, Reading with Holmes
Littles and waitlist youth met with Holmes the Reading Dog on Mother's Day weekend. The children had a great time, and one even took a quick nap with Holmes by his side! For this fun event, Littles were encouraged to practice their read-aloud skills, including their reading fluency, tempo and expression, while also growing in self confidence as they presented in front of an audience. Those waiting to read to Holmes were able to enjoy interacting with an emotional support animal. Holmes' favorite books of the day were a Star Wars short story and a short snippet of Harry Potter. They had Holmes' full attention!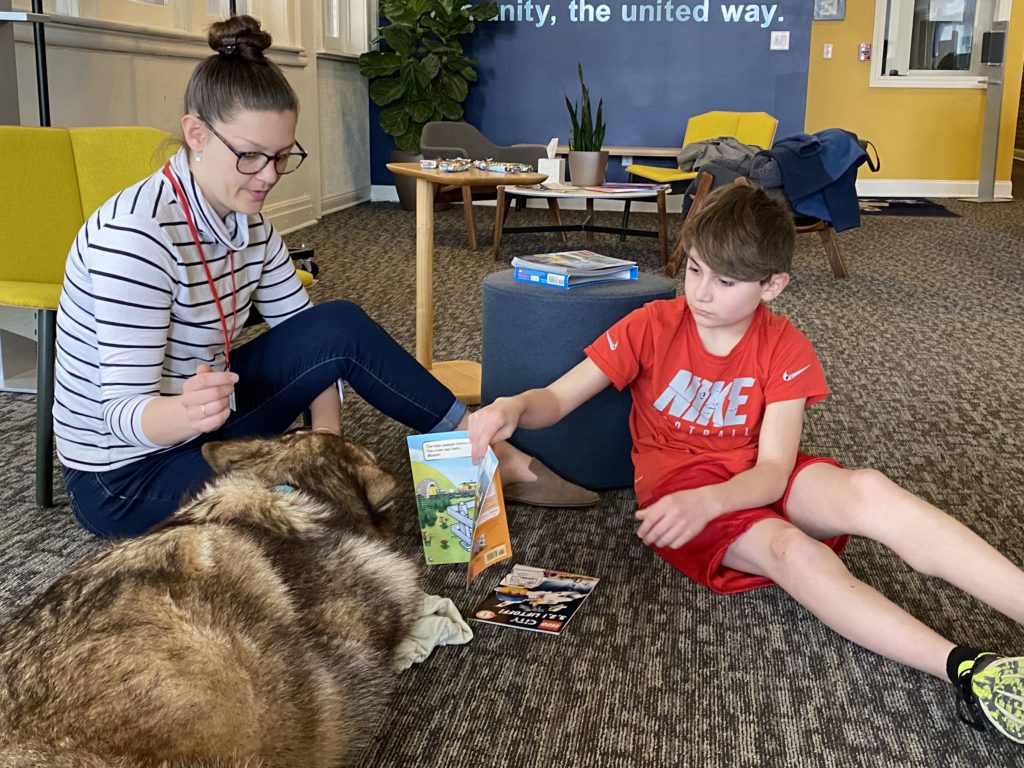 May 14th, Sleeping Beauty Hike
BBSCR partnered with the Hudson Center for Community and Environment to offer our matches stunning views and an opportunity to hike the Sleeping Beauty trail in Lake George! We were excited to offer this Adirondack hike to our matches this year as spending time in nature is linked to both cognitive benefits and improvements in mood, mental health and emotional well-being.
Many were not expecting for this hike to be as challenging as it was, but everyone was proud of the work they had done! One of our Littles, Mason, and his Big, Nicole, participated in the hike. Nicole shared that she knew "Mason used to do sports, and he is getting more into computers now-a-days. His grandma shared with me that she was happy that he worked out and got some exercise. Mason asked to take a lot of breaks and our trail guide Nick was encouraging." In spite of the challenge Mason persevered and didn't complain a single time. He and the rest of our Littles pushed through and made it to the top of Sleeping Beauty! What a great accomplishment!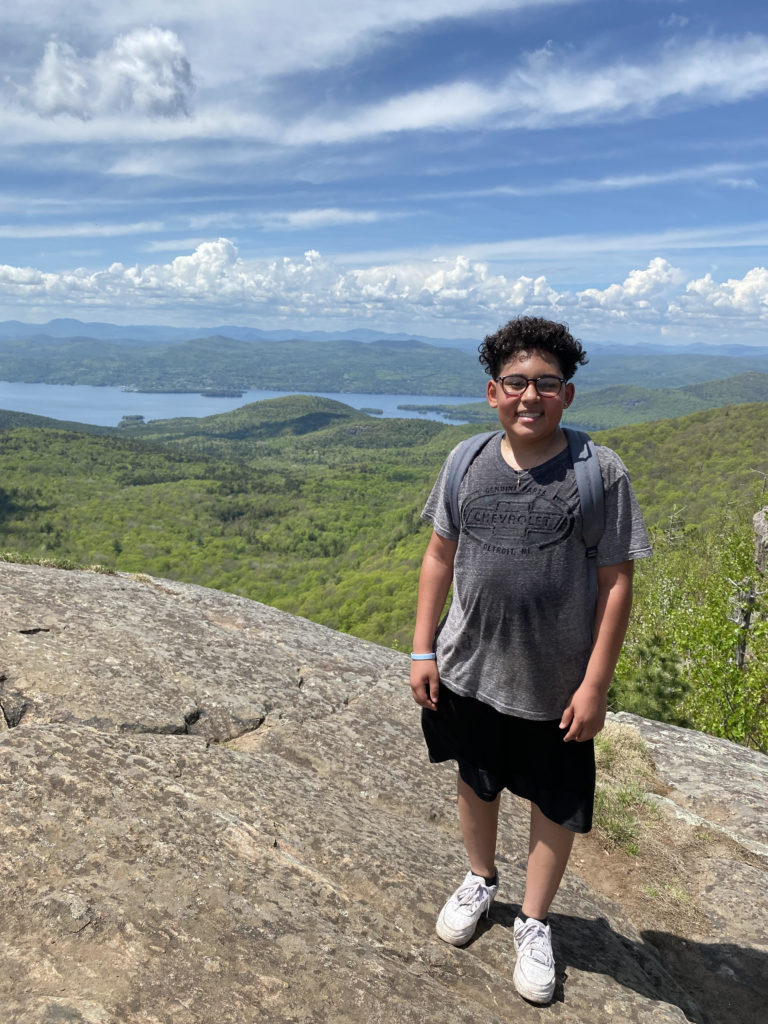 May 24th, Annual Achievement Celebration
At the end of May, we gathered in the Kenmore Ballroom to celebrate our wonderful Littles and their accomplishments this academic year at our Annual Achievement Celebration. This special evening highlighted the matches that graduated out of the Big Brothers Big Sisters program this academic year. We also celebrated the achievements of all our Littles, as well as Match anniversaries. Close to 60 guests enjoyed dinner and a formal achievement ceremony. Congratulations to all of our Littles for their many accomplishments!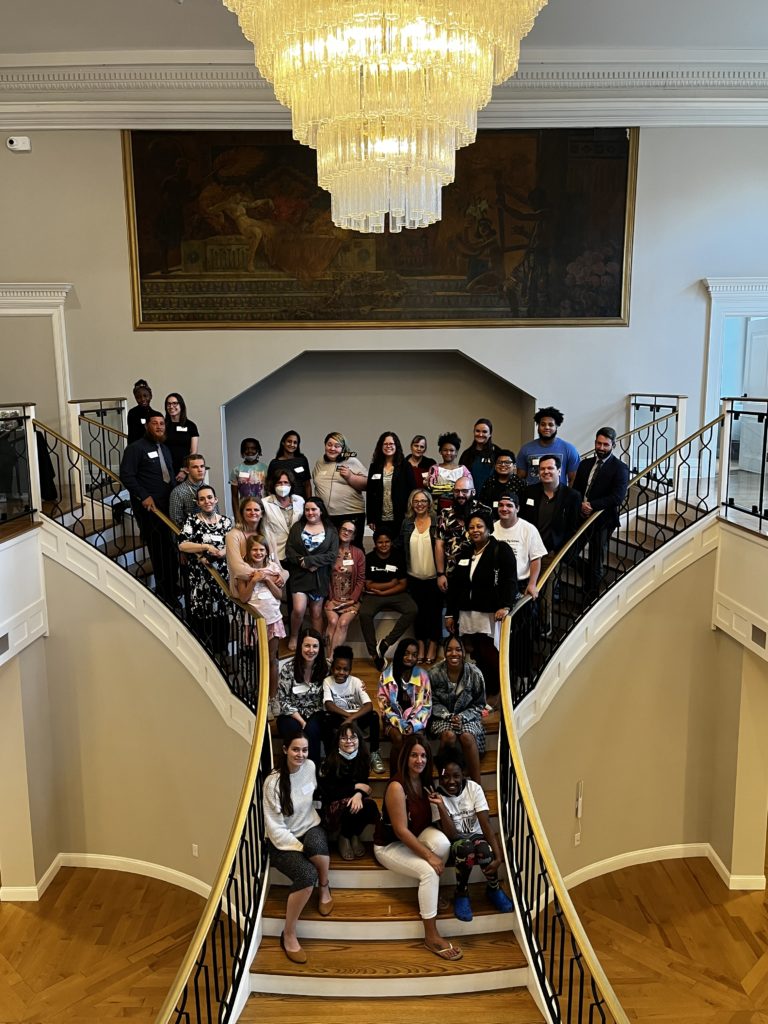 June 11th, Art in Mind Studio
Kathy from Art in Mind studio hosted BBBSCR at her studio this June. On June 11th, she kept the studio open late for a private lesson for our matches. Many studies have noted the positive connection between art and mental health—artistic activities such as sculpting, painting, or drawing are known to lower stress levels and promote mental calmness.
The matches had an incredible time painting their own unique pieces under Kathy's tutelage. For Big Sister Justyna and Little Sister Kaelyn, it was the first time they had ever met in person. Coincidentally, that day was also Justyna's birthday and she decided to celebrate by meeting Kaelyn in person and spending the evening with her building new skills. She shared: "It was cool. I loved it! Even for myself! No seriously! They play this music that is very relaxing. Kaelyn likes to be focused. She doesn't just paint and have conversations. She was putting in a lot of effort. She was very focused and it was cool watching her. It was a very creative space. "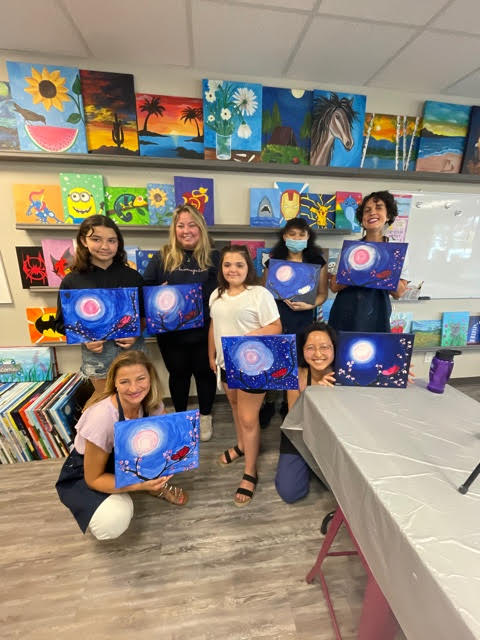 June 17th, Best Friend's Party
We had fun with a "who is most likely to" game, art stations, and Jenga at our Best Friend's Party in June! Matches took their time to create a poster of what they are grateful for in their match and made a friendship bracelet together! Jenga was an immediate hit and the matches huddled around the game- a successful ice breaker! The two boys who attended with their Big Brothers had their own station of hangman and stayed focused on it throughout the entirety of the party. The girls were split between the art stations and the "who's most likely to" game.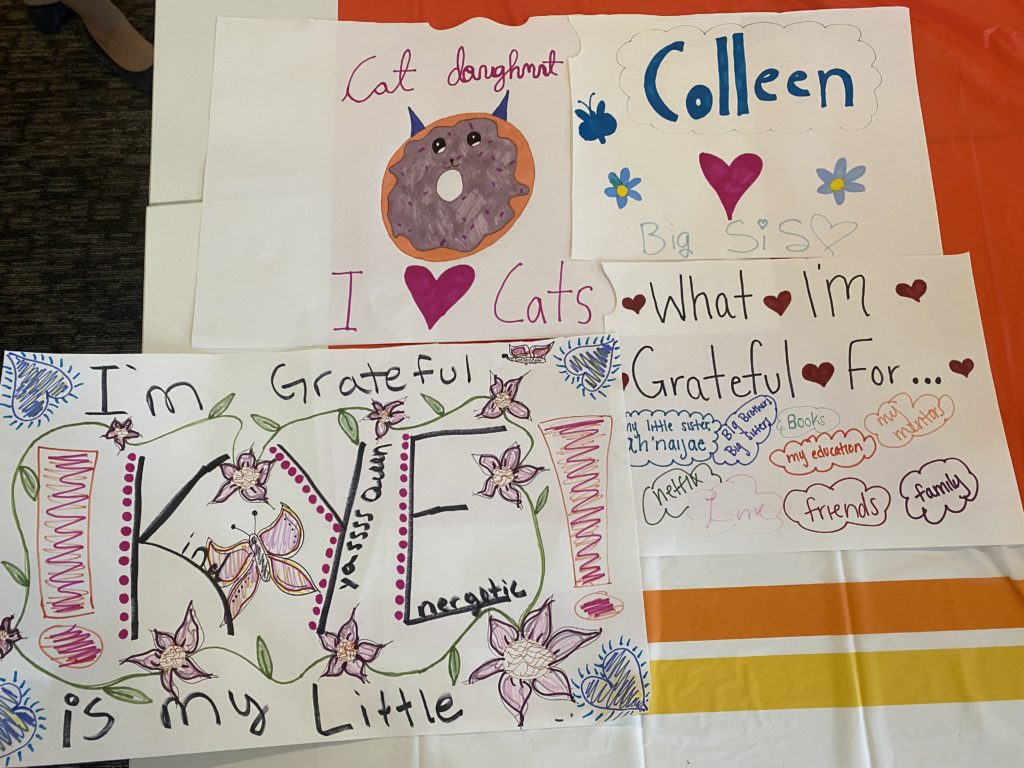 June 20th, Volunteer for Free Food Fridges
Chef Harley from The City Squire Pub in Schenectady continued his partnership with BBBSCR through a unique volunteering opportunity for our Bigs/Littles. We were invited to join him at the restaurant for a cooking lesson. The twist: all of the food prepared by our Bigs/Littles were quick and healthy meals that were packaged and donated to Free Food Fridge Albany. Together with Chef Harley, our matches made cabbage salad, quinoa salad, and corn salsa. This was an empowering, unique experience for our Littles to learn to learn cooking skills while taking pride in helping others. All the matches at the event were so grateful to be a part of giving back to their community.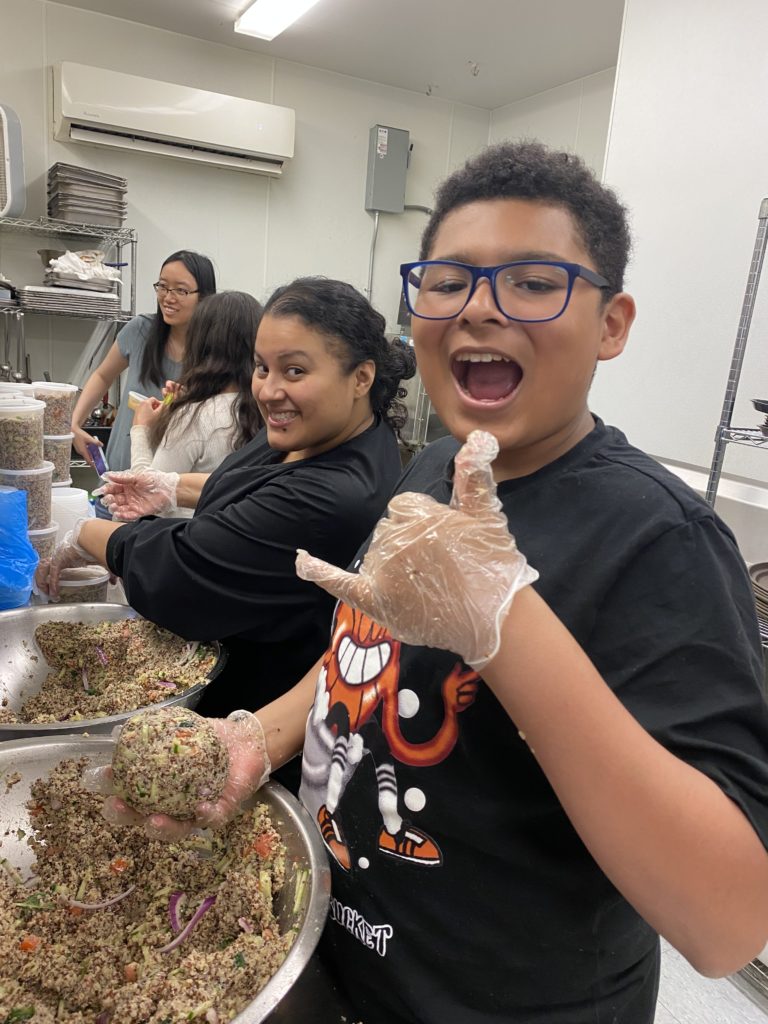 June 21st, Financial Literacy Course
BBBSCR and CAPCOM FCU, A Division of Broadview, came together to offer a financial literacy course for our Littles to learn about the importance of planning for the future. The focus of the course was on budgeting, managing a savings and checking account, and understanding pay stubs. Our Big Sister Annie shared that the session was "really good and I would recommend it for the future!" Big Brother Bryan shared that although his Little was the youngest in attendance he didn't hesitate to give his input which made his Big happy! Big Brother Frank thought "It was great! The two gentlemen who ran it were very nice. It was a conversation rather than a presentation." For Little Emeka, the course prompted a conversation with his Big about his bank account! What's up next for our Littles and their financial literacy? The vote is in: our Littles have requested the next course to be on compounding interest and retirement.
August 9th, Breyo Observatory at Siena College
BBBSCR and Siena College partnered to offer the kids in our programs a night in the Breyo observatory! Just a few days before the August full moon Bigs and Littles enjoyed astounding views of the moon and stars. Our Littles learned which constellations they can view from their home, how gravity works through a hands-on activity, and learned just how large our solar system is through a hands-on activity. Our matches had the opportunity to use a telescope and view the stars.