American National and Siena Saints Men's & Women's Basketball teamed up for Big Brothers Big Sisters
On April 23rd American National Insurance Company, in partnership with Siena College Basketball, presented Big Brothers Big Sisters of the Capital Region with a check for $4,000. The donation came from the results of the "American National Block Party."
Teaming up with the Siena Saints men's and women's basketball teams, American National was ready to make a donation for every blocked shot for both teams during the 2020-21 season. The men's team averaged 3.29 blocks per contest, while the women's squad, led by 2019-20 MAAC blocks leader Tobulayefa Watts, averaged 3.69 blocks per contest. Both teams combined for 104 blocks during the season.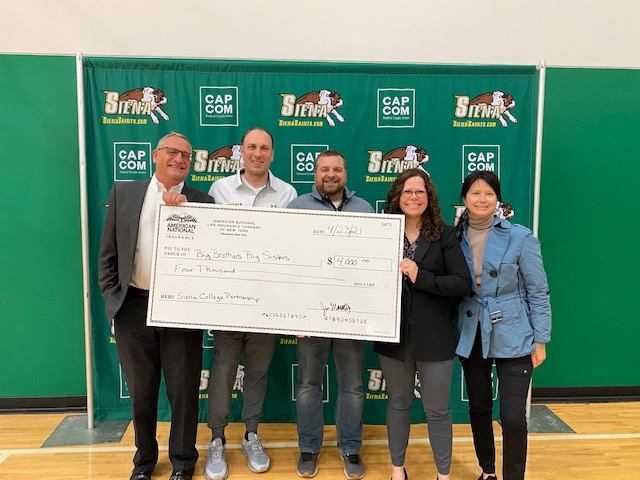 "We always strive to be active sponsors in our community, and the American National Block Party is a unique way we can help give back," said Jim Marotta, American National Vice President of Human Resources. Pictured from left to right are John Carl, BBBSCR Board Member/Development Chair, Carmen Maciariello, Siena Head Men's Basketball Coach, Jim Marotta, Lea Montalto-Rook, and Noelle Podoba, BBBSCR Board President.
"We are most grateful to American National and the Siena Saints men's and women's basketball teams for teaming up for Big Brothers Big Sisters of the Capital Region. Their commitment to help ignite the potential of our region's youth set an example of how creative partnerships can make a "Big" difference in the lives of our Littles. We thank them for their generosity, and look forward to many more Block Parties," shared Lea Montalto-Rook, CEO, BBBSCR.