2023 Match of the Year Nominees
Each year, Big Brothers Big Sisters of the Capital Region honors several outstanding matches as finalists for the regional Match of the Year Award. The matches that are nominated each illustrate how the mentoring relationship helps Littles achieve their biggest possible futures and makes a long-lasting impact on the Big, too.
Nominees are chosen for these characteristics:
The match has demonstrated significant impact for the Little and the Big has helped their Little overcome obstacles to achieve positive outcomes.
The Little has shown progress in reaching their potential and the Big has helped ignite, empower, or defend that potential in an identifiable way.
The Nominee has been highly engaged in the mission of Big Brothers Big Sisters.
The Big has shown excellence as an advocate for Big Brothers Big Sisters.
Congratulations to our five match finalists for our 2023 Match of the Year award!
Each of these matches profiled below has a special story. This September we invited these five matches into our podcast studio at The Blake Annex to spend a few minutes interviewing each other. CLICK ON THE VIDEO BELOW to hear from this year's nominees.
ABOUT OUR NOMINEES:
Big Bryan & Little Markel (Matched 2021)
Big Bryan and Little Markel's growth throughout their match has been admirable. They have a comfort with each other that takes years to build. From the outside,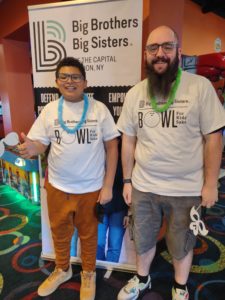 these are two guys in different stages of life. But, on the inside they share the same demeanor, sense of humor, and approach to life. They are truly like brothers!
Markel immediately expressed interest in building a computer with Bryan during their initial meeting. Bryan, having a career in cybersecurity, is a tech-savvy guy and was 100% committed to accomplishing this goal. Ten months into their match they made the goal come to fruition! Bryan worked with Rosa, Markel's Mom, to budget for the different parts needed. Bryan did the research, found the pieces, and made it happen! Bryan and Markel spent a total of 8 hours putting together the parts for his new desktop and although Markel lost some patience/interest along the way, he pulled through! Immediately when Markel brought his newly customized desktop home he wanted to play video games with Bryan.
Bryan enjoys diving into conversations with Markel that are important but can be uncomfortable to confront. They have discussed topics of life/death, gang related activities at Little's school, engaged in learning together through building a desktop computer, and simply enjoy each other's company over lunch, all of which are equally as valuable. Bryan enjoys being "that person to give him as many opportunities as [he] can and help him understand situations in life that are complicated" and he truly admires that Markel "maintains his individuality and innocence" while facing adversity in his school setting.
Big Michael & Little Ahsavion "Bebe" (Matched 2020)
Big Michael and Little Bebe were matched in February 2020, one month before the COVID pandemic hit! They didn't let the challenges the pandemic brought stop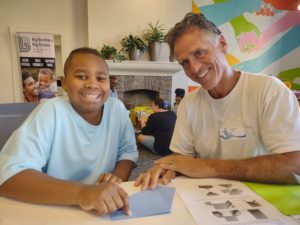 them from developing a relationship, though. Until it was safe to meet indoors again, they participated in outdoor activities such as scavenger hunts. They also made sure to keep up their weekly phone calls! Bebe is a man of few words, but Michael has really become his person. Michael connects well with Bebe and is okay with letting him be his quiet self. Bebe has become more talkative, though, over the course of their match. While he may be quiet in the car, he opens up once they hit their activity!
Bebe's mother appreciates that Michael is a "good communicator." She feels that they are a great match. Michael and Bebe have enjoyed many activities together over the years, including hiking, the aquarium, playing cards, going to the movies, bowling, Dave and Busters, and going to the amusement park!
Big John & Little Caleb (Matched 2020)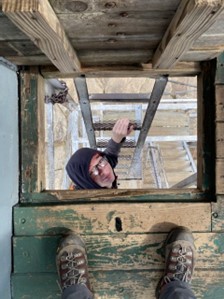 Caleb and John have been matched for 4 years. Caleb stuggles to be positive sometimes, so John makes it a point to find activities that Caleb excels in to help build up his confidence. For example, Caleb has discovered that he is a phenomenal bowler. John and Caleb frequently go bowling and this year John encouraged Caleb to go out for the bowling team. Caleb made the team and is one of the star players! Caleb and his family are very proud of this accomplishment.
Angela, Caleb's mom, is over the moon with joy that Caleb has had such a successful match. Since the death of Caleb's father, he has lacked a male presence in his life, and so Angela was thrilled when Caleb began to work with John. She has noted that since John and Caleb have been matched, Caleb's grades have done a complete 180. Previously, Caleb didn't see the value in completing homework or doing projects. This year, Caleb didn't miss even one assignment! Angela also thinks that spending time with John has helped Caleb socially. Caleb is now able to have long, detailed conversations about topics like his family, his desire to travel, his Jewish faith, and the connection that he feels to his ancestors.
Big Rhonda & Little Audrey (Matched 2020)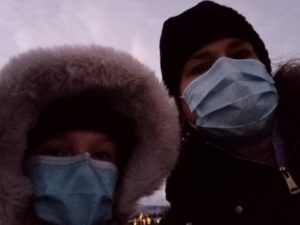 Little Audrey lives with her Grandmother Bonnie and her brother Jimmy. Bonnie sought a big sister for Audrey because she wanted her to have a positive role model in her life. Rhonda and Audrey have become very close over the past few years!
Audrey takes on many tasks in the home to help her grandmother. When they get together for match outings, Rhonda is pleased to take Audrey out and just give her an opportunity to play and wind down. They like to go to playgrounds, to the mall, and out to eat. Audrey is very shy and has had challenges making friends with other children. However, since being matched with Rhonda, Audrey has been able to open up a little more and has even arranged a few playdates this summer!
Bonnie is so happy to have Rhonda in Audrey's life. She wants Audrey to see that a drug-free, crime-free life is normal and achievable. Bonnie is also pleased that Rhonda can help Audrey navigate the world of social media. Rhonda is more than happy to help with these things and has actually helped educate Bonnie on a lot of technology along the way!
Big William & Little Anthone (Matched 2015)
Anthone and Will have been matched since 2015. Since the beginning, Little Anthone and Big Will have been the perfect pair! They have engaged in many activities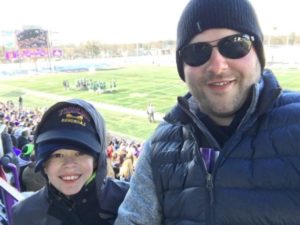 throughout the years from ice skating, going to the movies, swimming at the YMCA, street hockey, Albany Firewolves/Empire games, cooking class with Chef Harley and video games.
Will has provided academic support when needed and last school year, Anthone made honor roll each quarter! Having a male role model throughout these eight years together is just what Anthone needed to blossom into the charismatic young man he is today.
Will acknowledges that Anthone is "smart beyond his years" and even with the growth of Will's own family, Anthone has been a priority. Anthone has fully embraced his new position as a "Big Brother" to Will's kids and he feels such a strong connection with them. Through COVID, he and Will had to put outings on halt for 4 months in order to ensure the safety of Will's newborn. Anthone met his son on Facetime but openly shared that he couldn't wait to meet him in-person to embrace this new change in their match family.
Present day, they spend quality time all together at Big Brother Will's home and at the YMCA. Big shared that Anthone has been mindful with his money and has saved this summer in hopes of getting a car this winter. Big Will and Little Anthone have an everlasting friendship that will continue to grow!